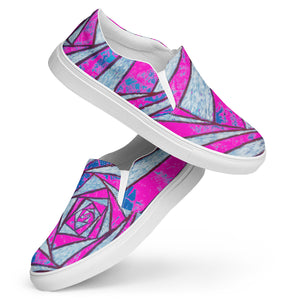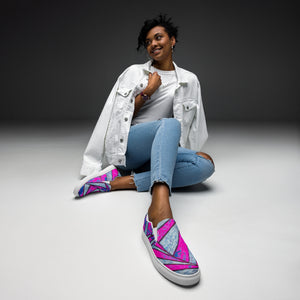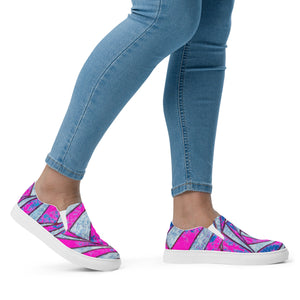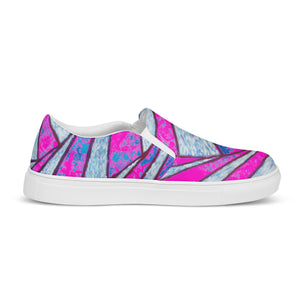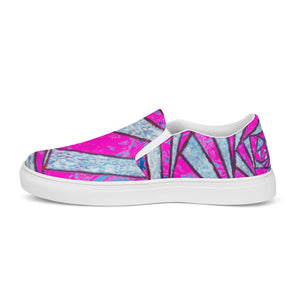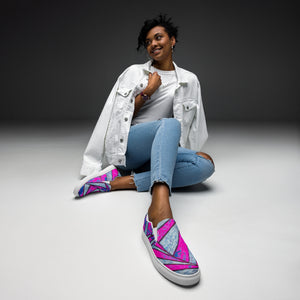 Inter-dimensional Women's slip-on canvas shoes
Made to transport you to the next dimension, just like Dorothy.
Made for comfort and ease, these Women's Slip-On Canvas Shoes are stylish and the ideal piece for completing an outfit. Equipped with removable soft insoles and rubber outsoles, it's also easy to adjust them for a better fit.
• 100% polyester canvas upper side
• Ethylene-vinyl acetate (EVA) rubber outsole
• Your brand on the box, insole, and tongue of the shoe
• Breathable lining, soft insole
• Elastic side accents
• Padded collar and tongue
• Printed, cut, and handmade
• Blank product sourced from China
Important: This product is available in the following countries: United States, Canada, Australia, United Kingdom, New Zealand, Japan, Austria, Andorra, Belgium, Bulgaria, Croatia, Czech Republic, Denmark, Estonia, Finland, France, Germany, Greece, Holy See (Vatican city), Hungary, Iceland, Ireland, Italy, Latvia, Lithuania, Liechtenstein, Luxemburg, Malta, Monaco, Netherlands, Norway, Poland, Portugal, San Marino, Slovakia, Slovenia, Switzerland, Spain, Sweden, and Turkey. If your shipping address is outside these countries, please choose a different product.
Size guide
| | | | | | | |
| --- | --- | --- | --- | --- | --- | --- |
|   | US WOMEN | UK | EUROPE | FOOT LENGTH (inches) | JAPAN | OUTSOLE LENGTH (inches) |
| 5 | 5 | 2.5 | 35.5 | 8 ⅝ | 22 | 9 ¾ |
| 5.5 | 5.5 | 3 | 36 | 8 ⅞ | 22.5 | 9 ¾ |
| 6 | 6 | 3.5 | 36.5 | 9 | 23 | 10.00 |
| 6.5 | 6.5 | 4 | 37.5 | 9 ⅛ | 23.5 | 10 ¼ |
| 7 | 7 | 4.5 | 38 | 9 ¼ | 24 | 10 ¼ |
| 7.5 | 7.5 | 5 | 38.5 | 9 ½ | 24.5 | 10 ⅝ |
| 8 | 8 | 5.5 | 39 | 9 ⅝ | 25 | 10 ⅝ |
| 8.5 | 8.5 | 6 | 40 | 9 ¾ | 25.5 | 10 ¾ |
| 9 | 9 | 6.5 | 40.5 | 10 | 26 | 11 ⅛ |
| 9.5 | 9.5 | 7 | 41 | 10 ⅛ | 26.5 | 11 ⅛ |
| 10 | 10 | 7.5 | 42 | 10 ¼ | 27 | 11 ⅜ |
| 10.5 | 10.5 | 8 | 42.5 | 10 ½ | 27.5 | 11 ⅝ |
| 11 | 11 | 8.5 | 43 | 10 ⅝ | 28 | 11 ⅝ |
| 11.5 | 11.5 | 9 | 44 | 10 ¾ | 28.5 | 12.00 |
| 12 | 12 | 9.5 | 44.5 | 11.00 | 29 | 12 ⅛ |
| | | | | | | |
| --- | --- | --- | --- | --- | --- | --- |
|   | US WOMEN | UK | EUROPE | FOOT LENGTH (cm) | JAPAN | OUTSOLE LENGTH (cm) |
| 5 | 5 | 2.5 | 35.5 | 22 | 22 | 24.8 |
| 5.5 | 5.5 | 3 | 36 | 22.6 | 22.5 | 24.8 |
| 6 | 6 | 3.5 | 36.5 | 22.9 | 23 | 25.4 |
| 6.5 | 6.5 | 4 | 37.5 | 23.2 | 23.5 | 26.2 |
| 7 | 7 | 4.5 | 38 | 23.5 | 24 | 26.2 |
| 7.5 | 7.5 | 5 | 38.5 | 24.1 | 24.5 | 27 |
| 8 | 8 | 5.5 | 39 | 24.5 | 25 | 27 |
| 8.5 | 8.5 | 6 | 40 | 24.8 | 25.5 | 27.3 |
| 9 | 9 | 6.5 | 40.5 | 25.4 | 26 | 28.3 |
| 9.5 | 9.5 | 7 | 41 | 25.7 | 26.5 | 28.3 |
| 10 | 10 | 7.5 | 42 | 26 | 27 | 29 |
| 10.5 | 10.5 | 8 | 42.5 | 26.7 | 27.5 | 29.5 |
| 11 | 11 | 8.5 | 43 | 27 | 28 | 29.5 |
| 11.5 | 11.5 | 9 | 44 | 27.3 | 28.5 | 30.5 |
| 12 | 12 | 9.5 | 44.5 | 28 | 29 | 30.8 |